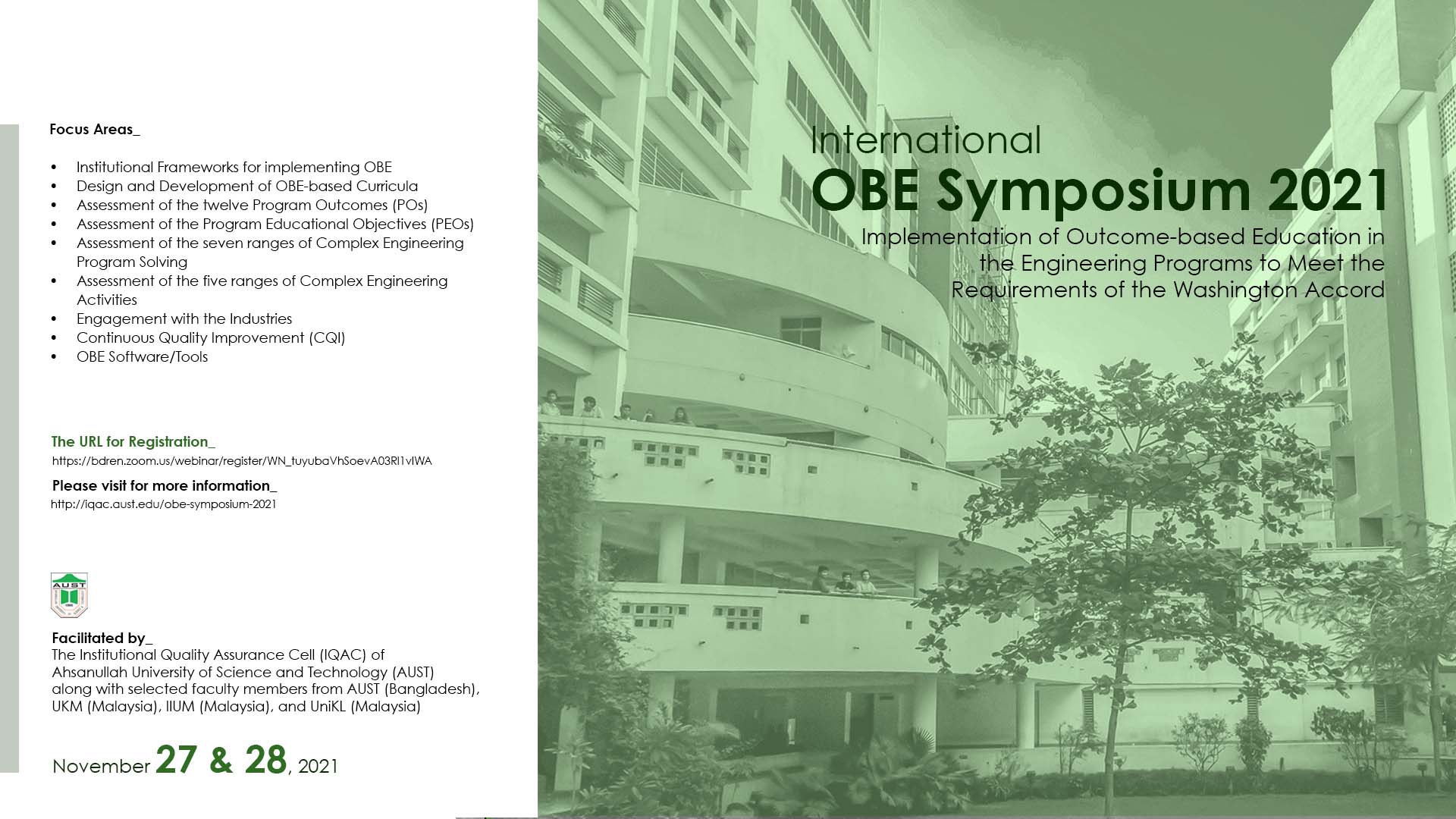 The Institutional Quality Assurance Cell (IQAC) of Ahsanullah University of Science and Technology (AUST), along with selected faculty members from AUST (Bangladesh), UKM (Malaysia), IIUM (Malaysia), and UniKL (Malaysia), has taken an initiative to conduct an international symposium on "Implementation of Outcome-based Education in the Engineering Programs to Meet the Requirements of the Washington Accord" on November 27 & 28, 2021 through Zoom Webinar sessions (please see the attached document for details). In this symposium, the presenters are expected to share the way OBE is implemented in respective engineering programs to meet the requirements of the Washington Accord (https://www.ieagreements.org/accords/washington). They are expected to focus on:
Institutional Frameworks for implementing OBE
Design and Development of OBE-based Curricula
Assessment of the twelve Program Outcomes (POs)

Assessment of the Program Educational Objectives (PEOs)

Assessment of the seven ranges of Complex Engineering Program Solving

Assessment of the five ranges of Complex Engineering Activities

Engagement with the Industries

Continuous Quality Improvement (CQI)

OBE Software/Tools
Confirmations have been received from nine presenters from six different countries - Australia, Bangladesh, India, Ireland, Malaysia, Singapore. It is expected that the participants will benefit from these presentations, along with valuable feedback from the four session chairs and the five distinguished panel members from different countries. Please register for this event at https://bdren.zoom.us/webinar/register/WN_tuyubaVhSoevA03Rl1vIWA for obtaining information for joining the sessions. Please visit http://iqac.aust.edu/ for more information.